Jean Shin: Freshwater
Curated by Kerry Bickford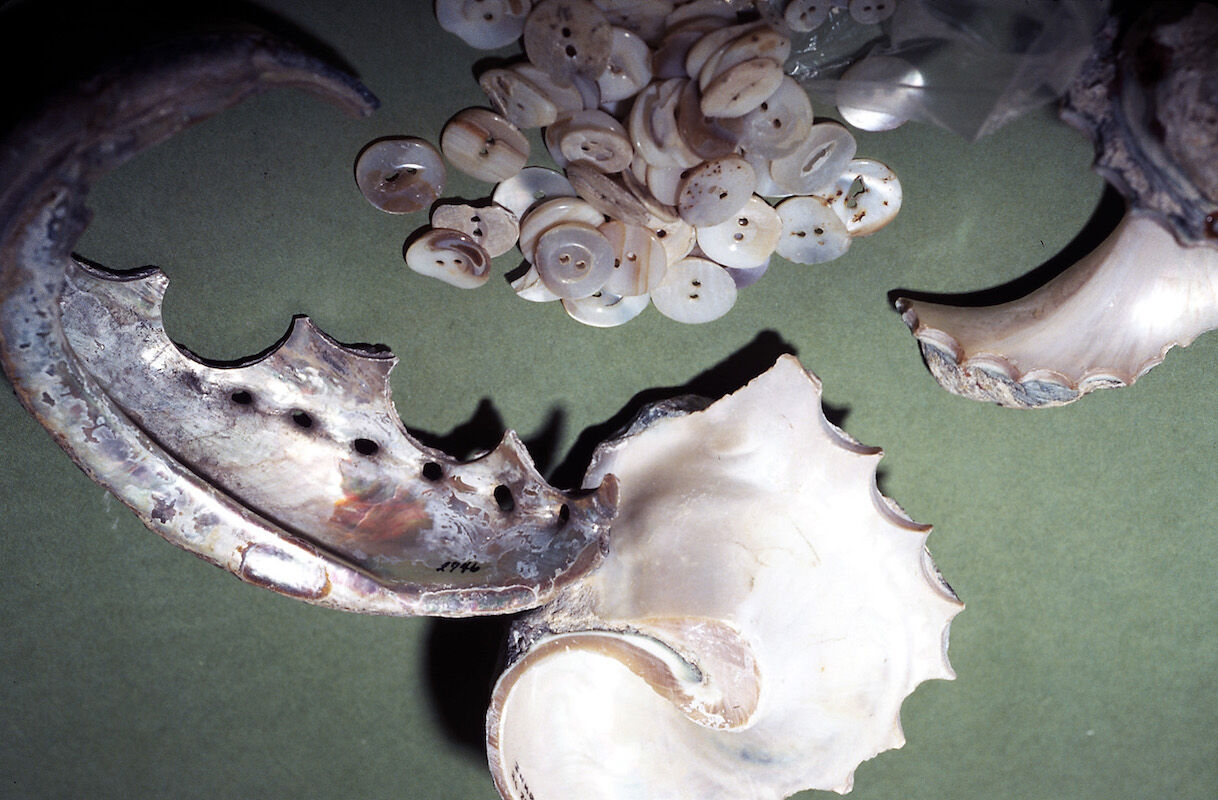 Freshwater, a new commission by Jean Shin, is a celebration of freshwater river mussels, particularly the 12 species that still remain in the Delaware River.
Freshwater mussels are some of the most endangered species in the United States, even as they serve as the backbone of our freshwater ecologies. A single mussel can live up to 80 years and filter between 10 and 15 gallons of water in a day, cleansing rivers and depositing nutrients into the soils.
Freshwater seeks to make visible the lives of these overlooked species, while also drawing on the luxurious appeal of mussel shells, a material that has been prized for centuries. In the 19th century the pearl button industry obliterated freshwater mussel populations in the midwest, while in the northeast industrial pollution poisoned the Delaware River for a generation.
Drawing on material histories and conservation science, Freshwater will be a reflection on the compounding effects of industrial waste and overconsumption, as well as tribute to the slow, necessary labor of restoration.
About the project
Freshwater is the first new commission to be produced as part of Water Marks, Philadelphia Contemporary's multi-year program of rotating installations at a variety of sites along the Delaware River Waterfront. Water Marks references the term "high-water mark," the point at which a body of water is at its highest. To live and work along the water in our current historical moment is to witness the ways in which precarity, specifically precarity caused by climate shifts, extreme weather, and industrial shortsightedness, threatens to upend our lives and livelihoods. Water Marks will be an invitation for contemporary artists from a range of practices to respond to this precarity, as well as the river's possible futures, making their own temporary marks along the Delaware River.
About the artist
Known for her large-scale installations and public sculptures, artist Jean Shin transforms accumulations of discarded objects into powerful monuments that interrogate our complex relationship between material consumption, collective identity and community engagement. Often working cooperatively within a community or region, Shin amasses vast collections of an everyday object or material—Mountain Dew soda bottles, mobile phones, 35mm slides—while researching its history of use, circulation and environmental impact. Distinguished by this labor-intensive and participatory process, Shin's poetic yet epic creations become catalysts for communities to confront social and ecological challenges.

Born in Seoul, South Korea, and raised in the US, Shin works in Brooklyn and Hudson Valley, New York. She is a tenured Adjunct Professor at Pratt Institute and holds an honorary doctorate from New York Academy of Art. Shin's work has been widely exhibited and collected in over 150 major museums and cultural institutions, including solo exhibitions at The Museum of Modern Art in New York, Philadelphia Museum of Art, Smithsonian American Art Museum in Washington DC, and Asian Art Museum in San Francisco, where in 2020 she was the first Korean-American woman artist featured in a solo exhibition. Shin has received numerous awards, including the forthcoming Frederic Church Award for her contributions to American art and culture. Her works have been highlighted in The New York Times and Sculpture Magazine, among others.