Freshwater: Educational Programming
Curated by Libby Vieira da Cunha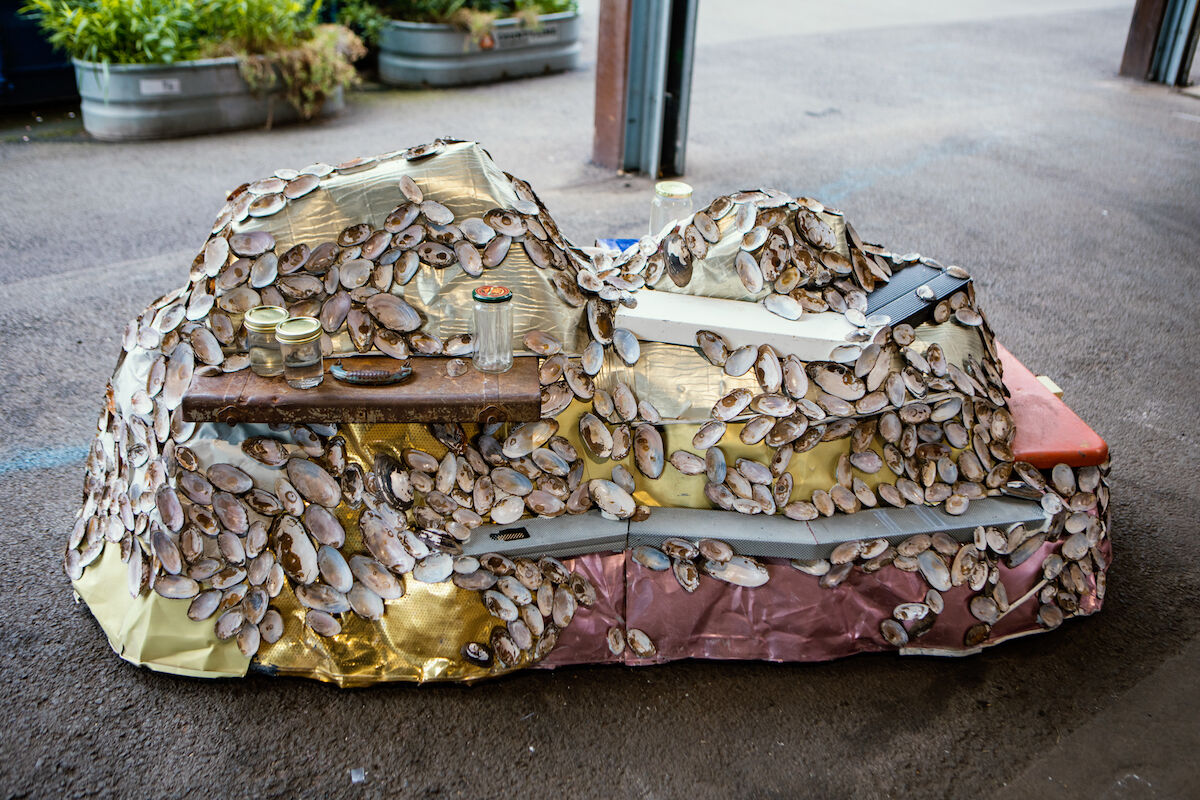 Education at Philadelphia Contemporary acknowledges the artist in all of us, is inspired by the vibrant city we live in, and is guided by a philosophy of progressive education. Education programs build community and provide space for connection, discovery and play for all ages. Come wonder with us!
Freshwater Talks
Hear from artists, scientists, historians for perspectives on the Freshwater exhibition. This series of talks takes a deeper look into contemporary artistic practice and implications and complex relationships of freshwater mussels' past, present and future on the ecosystem and our lives considered through this layered exhibition.  

Past—Overconsumption: How Cultural Behaviors Endanger Mussel Species
September 28, 2022
6-7pm at Cherry Street Pier
In the 19th century the pearl button industry obliterated freshwater mussel populations in the midwest, while in the northeast industrial pollution poisoned the Delaware River for a generation. Drawing on material histories and conservation science, Freshwater is a reflection on the compounding effects of industrial waste and overconsumption. This talk takes a look at how industrial waste and cultural behaviors such as overconsumption endanger the health of the Delaware River watershed.
Speakers include Paul Callomon, Collection Manager at The Academy of Natural Sciences of Drexel University and Billy Dufala, co-founder of RAIR (Recycled Artist in Residence).
Speaker Bios:
Paul Callomon is jointly responsible for management of the Malacology and General Invertebrates collections and supervision of the imaging and SEM centers at The Academy of Natural Sciences of Drexel University. His field of academic interest is the history of molluscan science in Japan. He is a co-author of the standard reference catalog of Japanese marine species.

Billy Dufala is a Philadelphia-based artist and co-founder of RAIR (Recycled Artist in Residence) an arts organization onsite at Revolution Recovery recycling company with a mission "to challenge the perception of waste culture by providing a unique platform for artists at the intersection of art and industry."
Present—Jean Shin's Artist Practice 
October 20, 2022
6-7pm at Fringe Arts
Jean Shin speaks to her artistic practice and inspiration and the complex relationship to our surroundings conceptualized in Freshwater.  
Speaker Bio:
Known for her large-scale installations and public sculptures, artist Jean Shin transforms accumulations of discarded objects into powerful monuments that interrogate our complex relationship between material consumption, collective identity and community engagement.
Born in Seoul, South Korea, and raised in the US, Shin works in Brooklyn and Hudson Valley, New York. She is a tenured Adjunct Professor at Pratt Institute and holds an honorary doctorate from New York Academy of Art. Shin's work has been widely exhibited and collected in over 150 major museums and cultural institutions.
Future—Mussel Restoration along the Delaware River Watershed
November 3, 2022
6-7:30pm at The Discovery Center
This talk shares and celebrates efforts to restore mussel beds and the health of the Delaware River watershed with scientists, educators and culture workers guiding this work in the city of Philadelphia. This event features a talk from 6-7pm followed by a live biology demonstration.
Speakers include: Lance Butler, Senior Scientist-Office of Watersheds Planning & Research Division Philadelphia Water Department, Danielle Kreeger, Ph.D. Senior Science Director for the Partnership for the Delaware Estuary (PDE), Maitreyi Roy, Executive Director, Bartram's Garden, Bria Wimberly, Environmental Educator, Audubon Mid-Atlantic located in The Discovery Center, and Stacey Heffernan, Philadelphia Water Department, Environmental Education Planner at the Fairmount Water Works Interpretive Center.
Speaker Bios:
Lance Butler is a Senior Scientist at the Philadelphia Water Department's Office of Watersheds. He is currently pursuing his PhD in Environmental Science at Drexel University, focusing on restoration ecology and bioremediation in aquatic ecosystems. Presently, his work has been focused on freshwater mussel restoration and the evaluation of ecosystem services provided by bivalve communities in urban-centric environments. Since 2001, he has also been involved in planning, design and monitoring programs associated with the Flatrock DamManayunk Canal Improvements Project. Recently, he was involved in the development and implementation of the Aquatic Research and Restoration Center (ARRC), a multi-agency cooperative aimed at restoring and enhancing aquatic ecosystems in the urban portions of the Delaware Basin. 
Danielle Kreeger, PhD, is an ecologist with more than 35 years of experience working as a research scientist and educator. She currently serves as Senior Science Director for the Partnership for the Delaware Estuary (PDE), where she represents the National Estuary Program's scientific interests by crafting, leading and participating in collaborative science and technical teams that address the goals set forth by the organization's Comprehensive Conservation and Management Plan. For example, she was the main architect of the Mid-Atlantic Coastal Wetland Assessment, Delaware Estuary Living Shoreline Initiative, Freshwater Mussel Recovery Program, Technical Report for the Delaware Estuary and Basin, and biennial Delaware Estuary Science and Environmental Summit. She coordinates the estuary's Science and Technical Advisory Committee. In addition to her work for PDE, Danielle also maintains an appointment as an associate research professor at The Academy of Natural Sciences of Drexel University.
Maitreyi Roy serves as Executive Director for Bartram's Garden, home of famed 18th century botanist John Bartram (1699-1777). Today the 45 acre landscape is a National Historic Landmark on the tidal Schuylkill River, once the ancestral lands of the indigenous Lenni Lenape, and a public space resource operated in partnership with the City of Philadelphia. Since 2012, Maitreyi has worked with the board, staff and community leaders to restore and transform Bartram's Garden as a historic and cultural asset, advancing an ambitious strategic action plan and establishing the Garden as a vibrant civic commons and outdoor living room and class space for the Southwest Philadelphia community. Trained as an architect in India, Maitreyi's interest in open space issues took her to the Design School at Harvard University where she earned a master's degree in Landscape Architecture.
Bria Wimberly is an Environmental Educator at the Audubon Mid-Atlantic located in The Discovery Center. Born and raised in West Philadelphia, Bria found her interest in environmental science when visiting Cobbs Creek as a child. She received her BS in Marine Biology from Florida International University in 2015, then moved back to Philadelphia to teach what she learned. She spent five years working as an educator and coordinator for Fairmount Water Works focusing on aquatic macroinvertebrates and the outreach program for their freshwater mussel hatchery. As of January 2020, Bria has joined the Audubon team as an Environmental Educator teaching neighborhood children about the importance of our watersheds, conservation, ecosystems, and everything in between.
Stacey Heffernan has an MS in Biology and an MA in Education and is currently an Environmental Educator for the Philadelphia Water Department at the Fairmount Water Works Interpretive Center. She develops and implements programs to engage audiences in activities that foster a greater appreciation for the urban watershed and a deeper understanding of our relationship to water. She especially loves to facilitate connections to the wonders of the natural world and to work with youth to encourage our next generation of stewards.
Volunteers collection mussel shells during low tide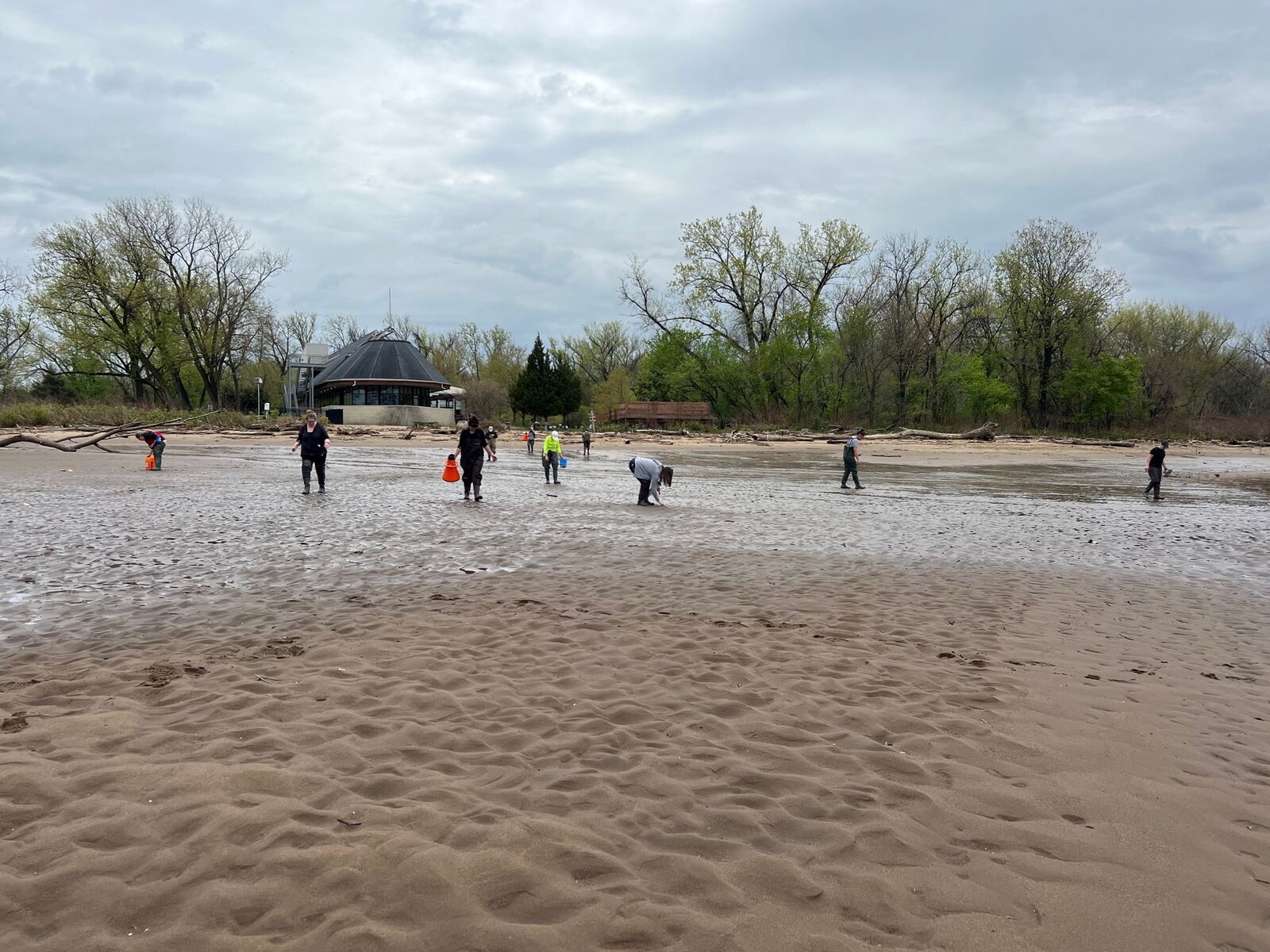 Volunteers collection mussel shells during low tide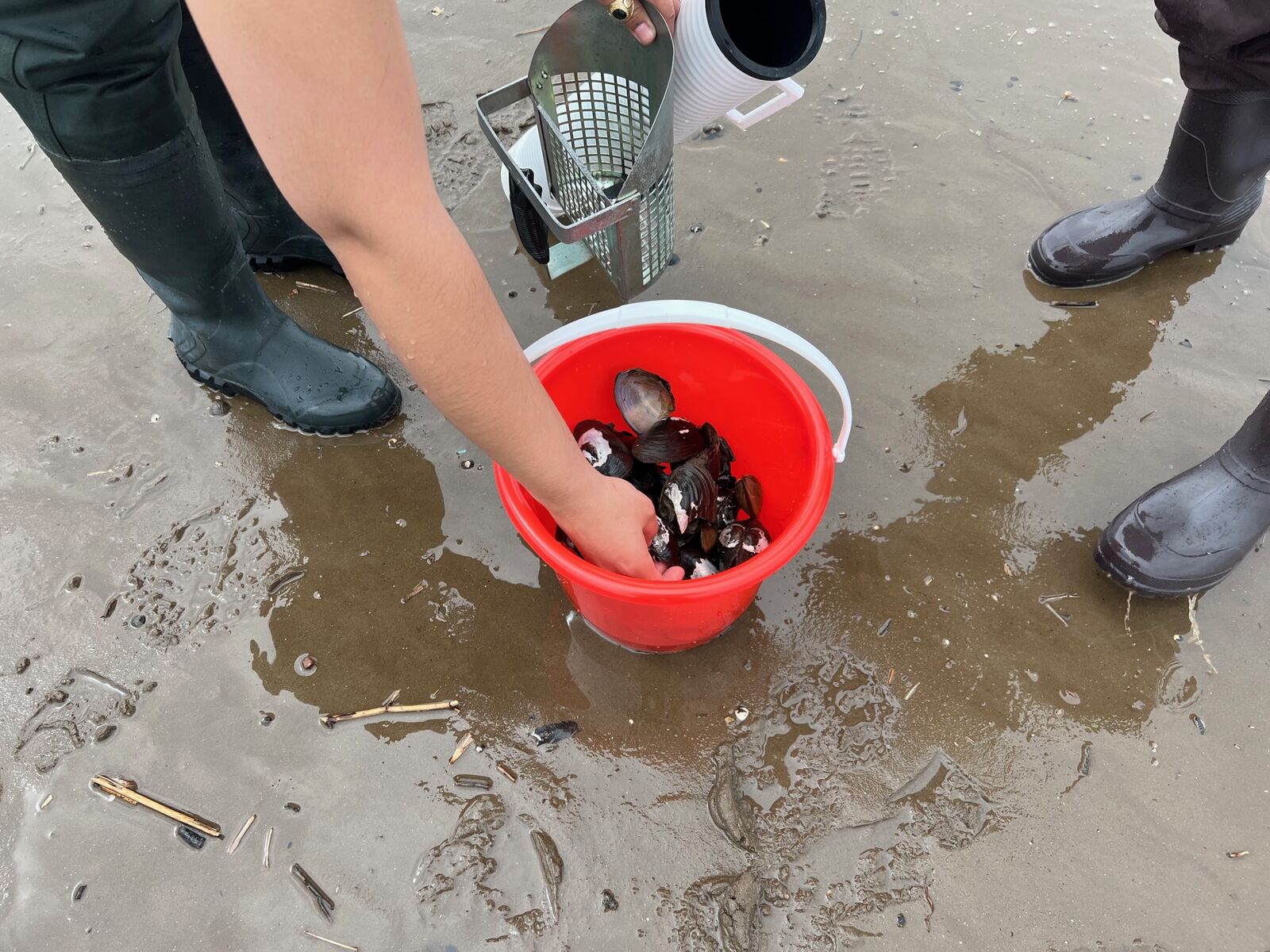 A volunteers shows off the day's catch of mussel shells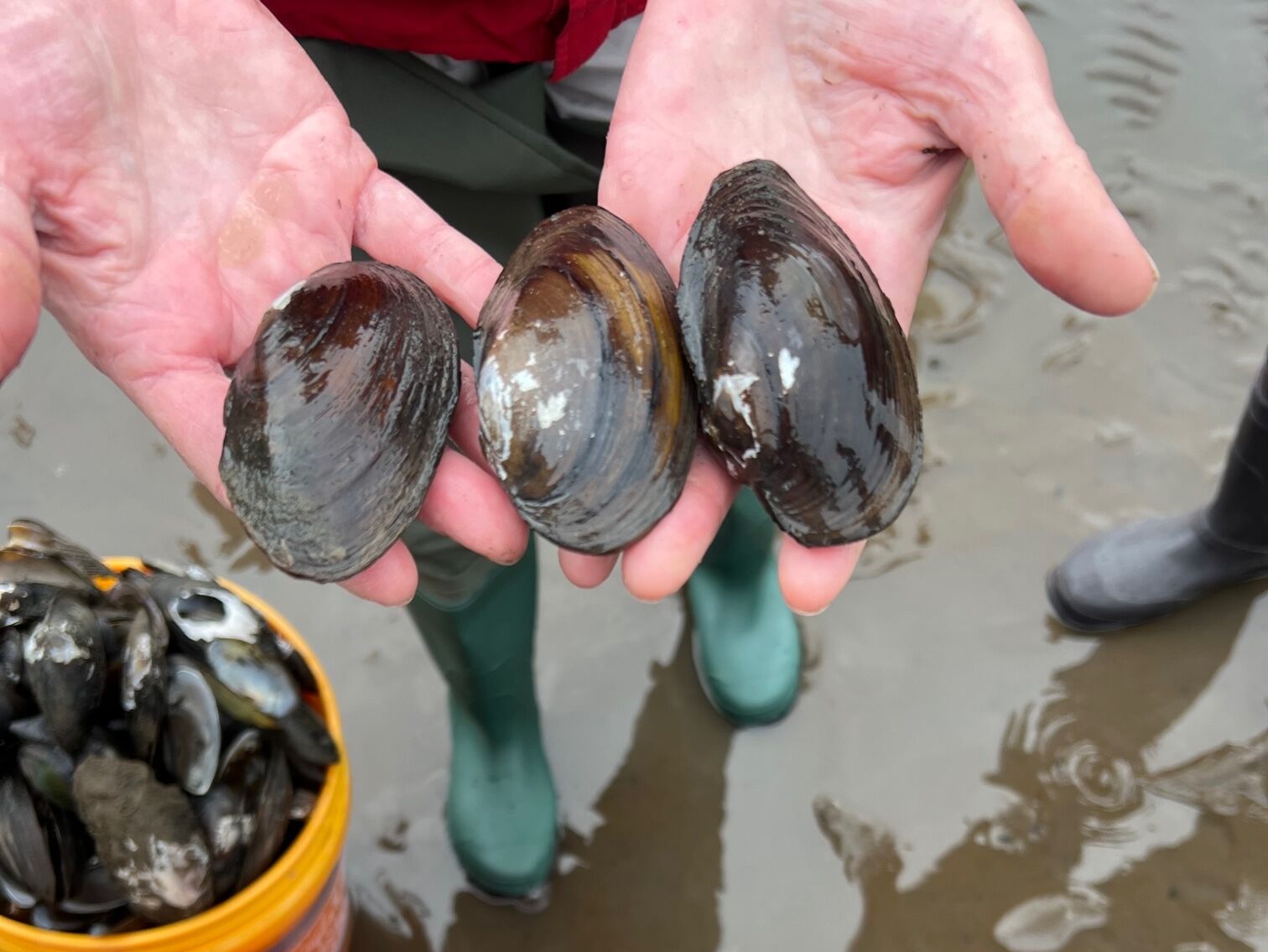 One of Jean Shin's sculptures featuring reclaimed materials, mussels shells and jars of water from the Delaware River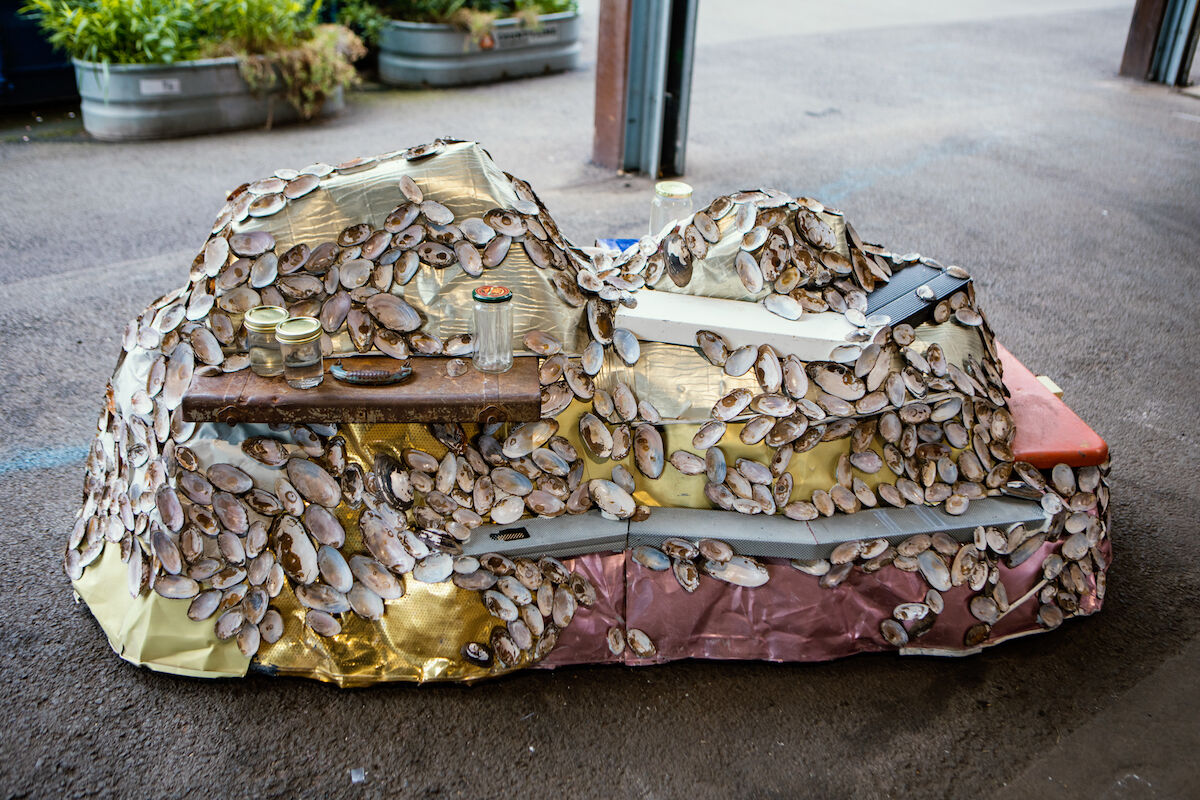 One of the finalized sculptures from the Freshwater exhibition featuring mussels collected during the survey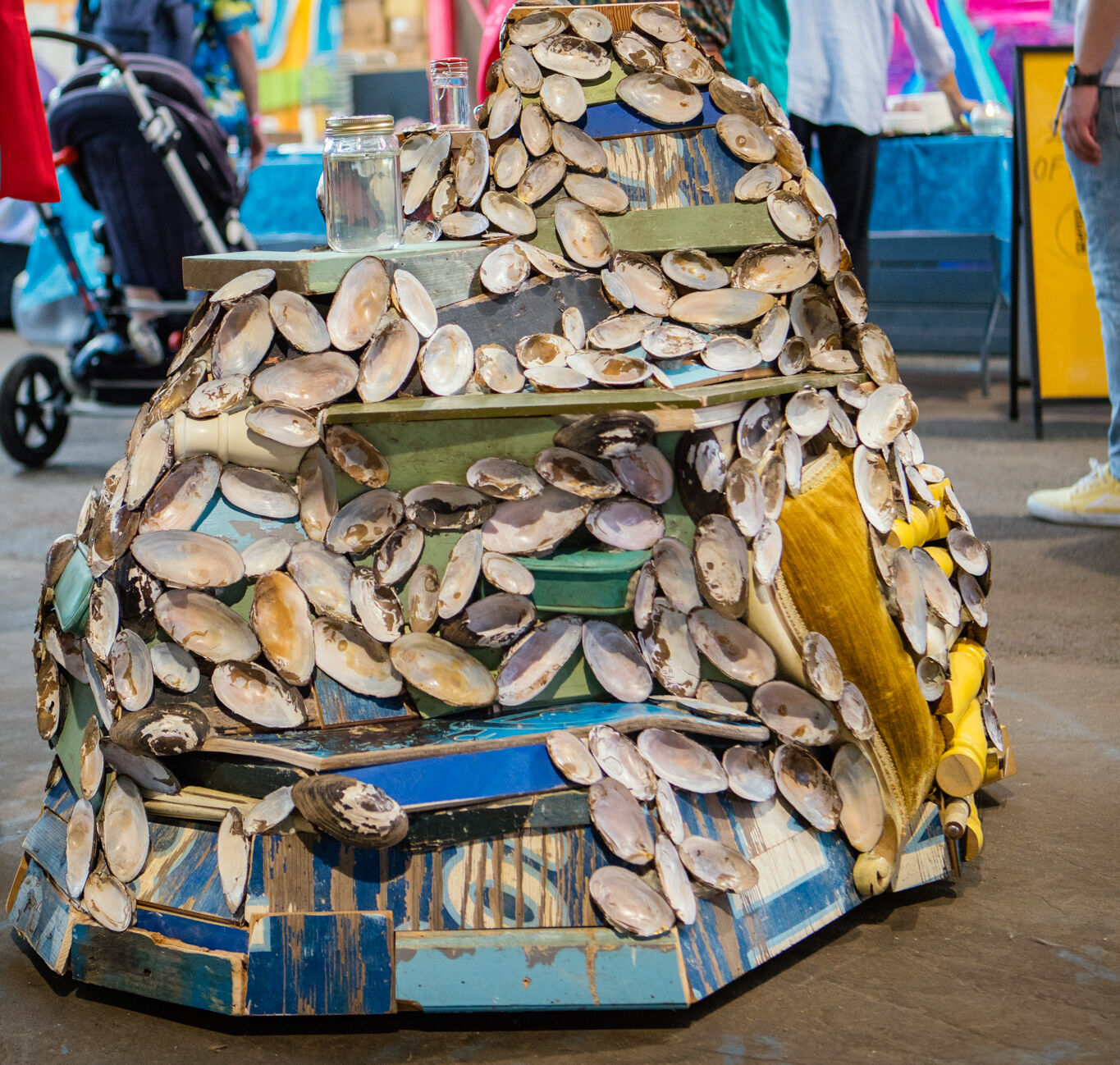 Pre-Programming, April 23 & May 7, 2022
In collaboration with the Fairmount Water Works Interpretive Center and Audubon Mid-Atlantic located in The Discovery Center
Pre-programming featured mussel survey and shell collecting events at the shore of the Delaware River during low tide in collaboration with educators from the Fairmount Water Works Interpretive Center and The Discovery Center.  During these events groups learned about the role of mussels in the ecology of the Delaware River and considered their value within a larger context through learning about Jean Shin's Freshwater exhibition. The shells collected from these events, buffed to show the radiant, mother-of-pearl interiors for which these species have long been prized, are featured in select sculptures of  Freshwater. Thank you to those who joined us from the Pennsylvania Master Watershed Steward Program.
River Ambassadors from the Independence Seaport Museum
riverambassador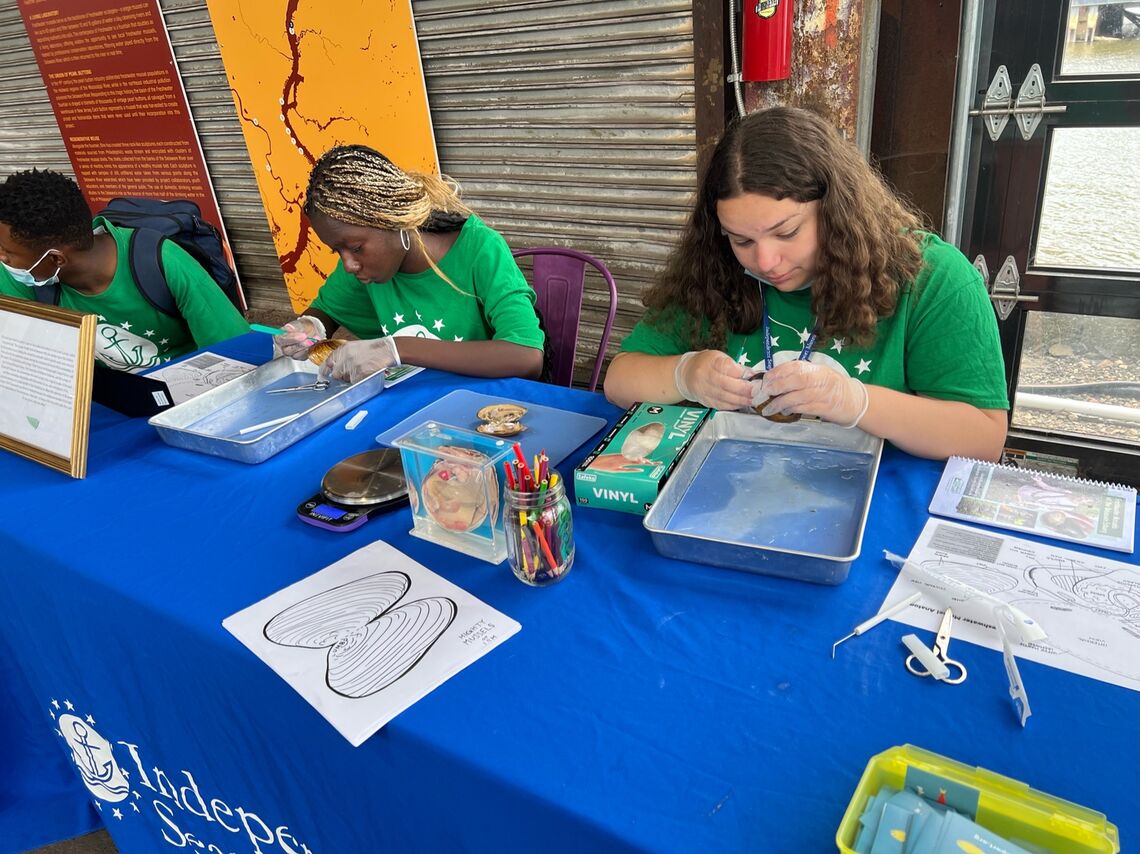 riverambassadors2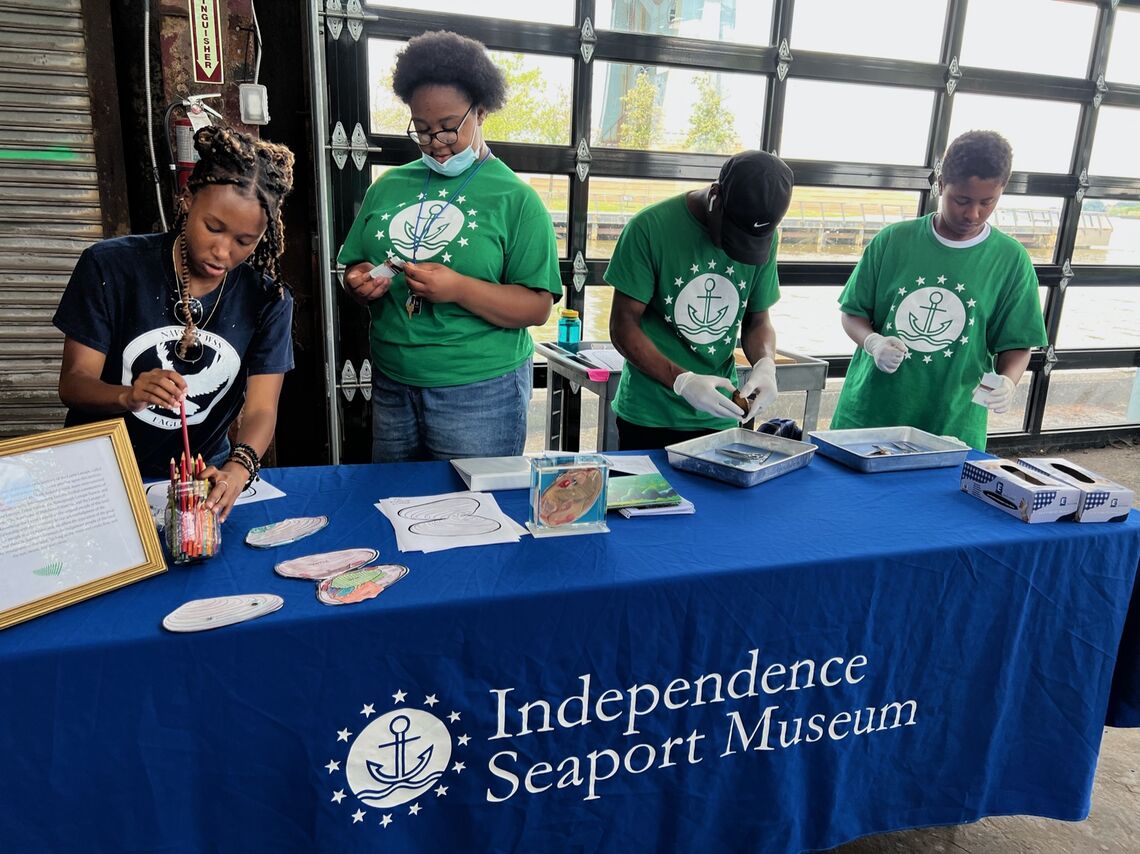 Summer Programming
Visit to Freshwater Exhibition during Painting Workshop with Fleisher Art Memorial 
June 27 - July 1, 2022
For adults; all levels welcome
Fleisher Art Memorial's Five-day Immersive Painting Workshop meets at a variety of water sites in Philadelphia. The class will visit the Freshwater Exhibition in June during a nearby painting location of the Delaware River.  Learning about what lies beneath the water and the ecological future of the river through Jean Shin's artwork adds a contemporary artistic and conceptual layer to the class's observation informed painting of the river. 
Learn more about Fleisher Art Memorial's Five-day Immersive Painting Workshop 
Summer Programming with the Independence Seaport Museum
July 13 - August 20, 2022 
Wednesdays 3-4pm
Drop-in; no registration required
Join Philadelphia Contemporary and the Independence Seaport Museum in observation, discussion and hands-on activities that take a deeper look into Jean Shin's Freshwater exhibition through artistic and scientific lenses. Did you know that mussels are some of the most endangered species in the United States? Learn about contemporary art as a call to action for ecological awareness, restoration, and protection through the beauty and importance of mussels to the Delaware River watershed. Activities for all ages led by Philadelphia high school students of the Independence Seaport Museum River Ambassador program.
Learn more about the River Ambassador Program.
Discovery Day—The Importance of Freshwater Mussels
September 7, 2022 
6-8pm at The Discovery Center
Join Audubon Mid-Atlantic and Philadelphia Contemporary as we dive into our passion for clean waters, freshwater mussels and sustainability. Stemming from the new collaborative exhibit created by Jean Shin at the Cherry Street Pier, panel speakers will touch base on the importance of these filter-feeding bivalves and about the history of our mussel nursery site: the Strawberry Mansion Reservoir. Guest speakers include Jean Shin and Keith Russell.
There will be a sunset birdtour from 6-7pm, a talk from 7-8pm and a live biology demonstration afterwards.