Freshwater: Educational Programming
Curated by Libby Vieira da Cunha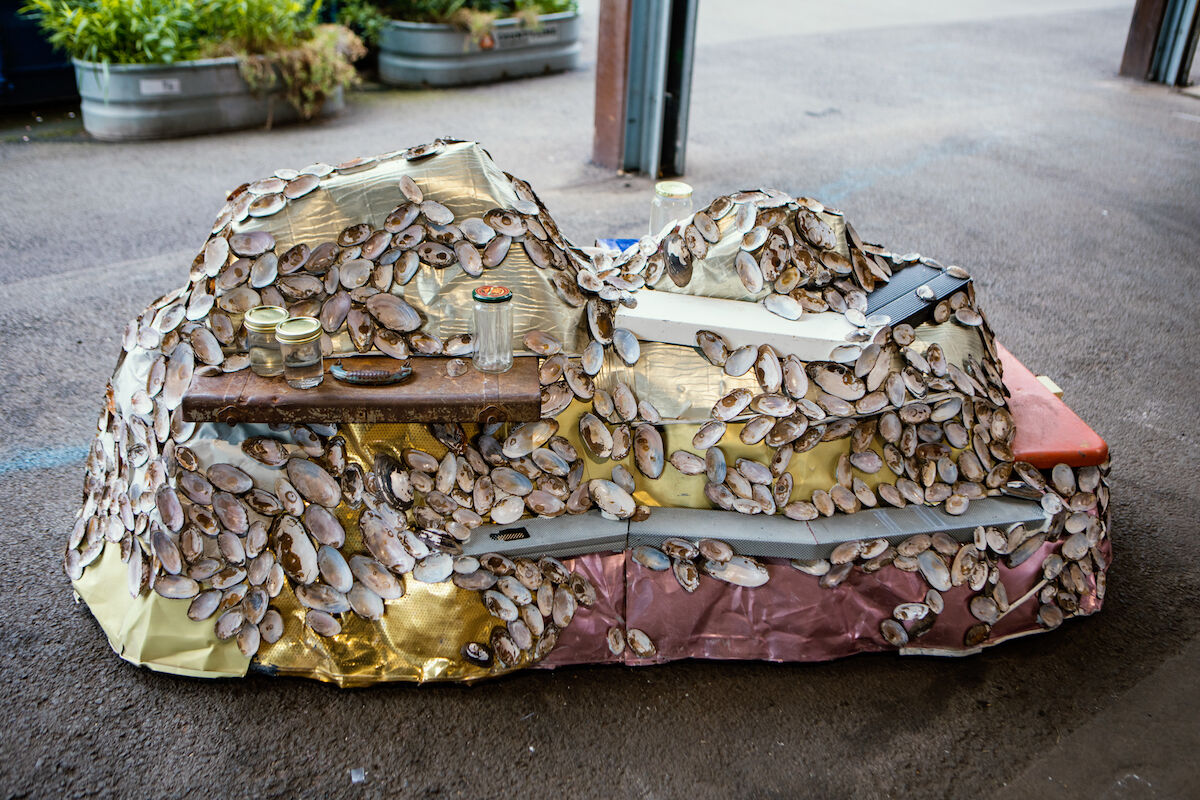 Education at Philadelphia Contemporary acknowledges the artist in all of us, is inspired by the vibrant city we live in, and is guided by a philosophy of progressive education. Education programs build community and provide space for connection, discovery and play for all ages. Come wonder with us!
Note: All programs below on location of Freshwater Exhibition at Cherry Street Pier
 
Visit to Freshwater Exhibition during Painting Workshop with Fleisher Art Memorial 
June 27 - July 1, 2022
For adults; all levels welcome
Fleisher Art Memorial's Five-day Immersive Painting Workshop meets at a variety of water sites in Philadelphia. The class will visit the Freshwater Exhibition in June during a nearby painting location of the Delaware River.  Learning about what lies beneath the water and the ecological future of the river through Jean Shin's artwork adds a contemporary artistic and conceptual layer to the class's observation informed painting of the river. 
Learn more about Fleisher Art Memorial's Five-day Immersive Painting Workshop 
Summer Programming with the Independence Seaport Museum
July 13 - August 20, 2022 
Wednesdays 3-4pm
Drop-in; no registration required
Join Philadelphia Contemporary and the Independence Seaport Museum in observation, discussion and hands-on activities that take a deeper look into Jean Shin's Freshwater exhibition through artistic and scientific lenses. Did you know that mussels are some of the most endangered species in the United States? Learn about contemporary art as a call to action for ecological awareness, restoration, and protection through the beauty and importance of mussels to the Delaware River watershed. Activities for all ages led by Philadelphia high school students of the Independence Seaport Museum River Ambassador program.
Learn more about the River Ambassador Program.
Pre-Programming, April 23 & May 7, 2022
In collaboration with the Fairmount Water Works Interpretive Center and Audubon Mid-Atlantic located in The Discovery Center
Pre-programming featured mussel survey and shell collecting events at the shore of the Delaware River during low tide in collaboration with educators from the Fairmount Water Works Interpretive Center and The Discovery Center.  During these events groups learned about the role of mussels in the ecology of the Delaware River and considered their value within a larger context through learning about Jean Shin's Freshwater exhibition. The shells collected from these events, buffed to show the radiant, mother-of-pearl interiors for which these species have long been prized, are featured in select sculptures of  Freshwater. Thank you to those who joined us from the Pennsylvania Master Watershed Steward Program.
Volunteers collection mussel shells during low tide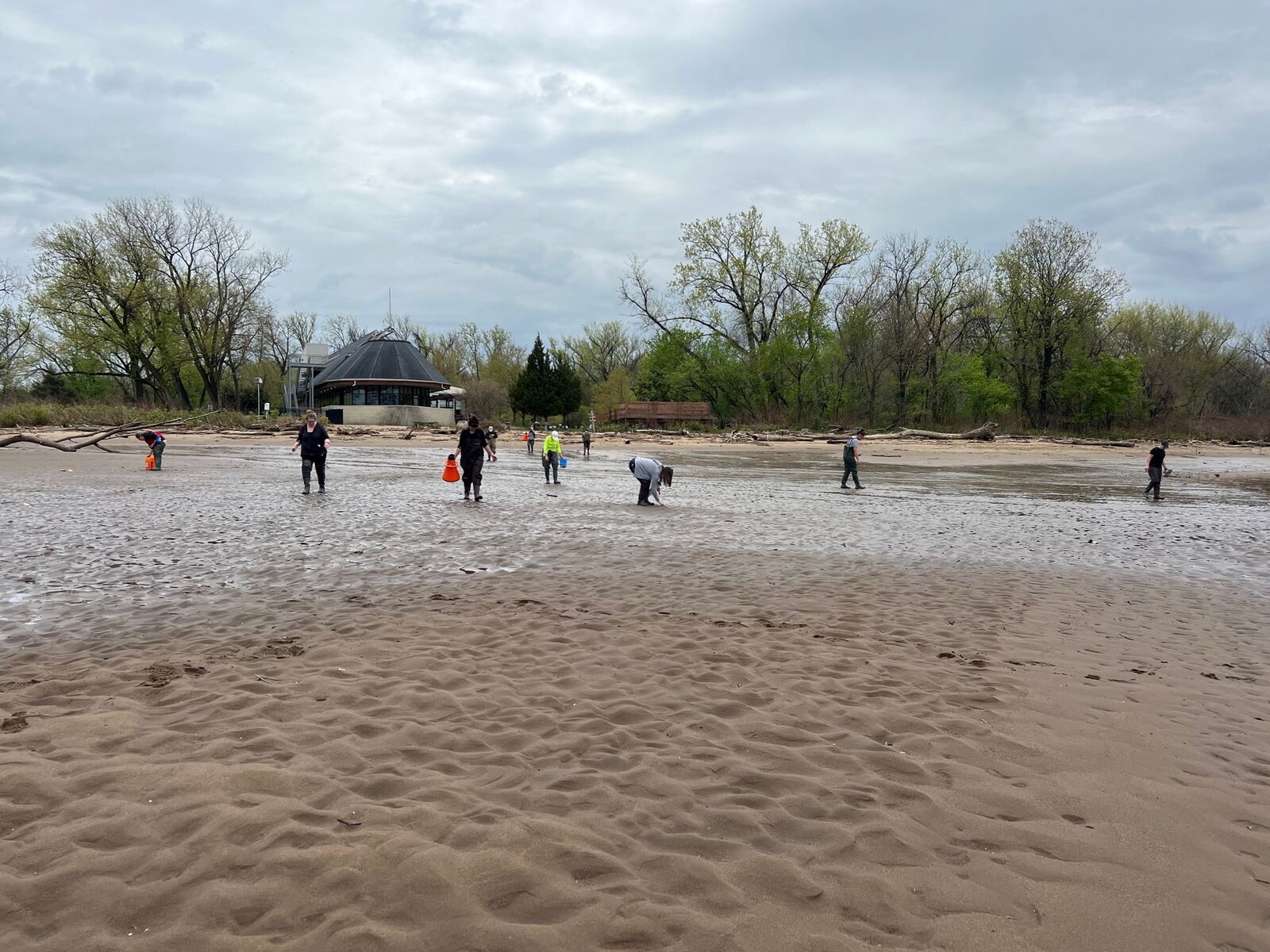 Volunteers collection mussel shells during low tide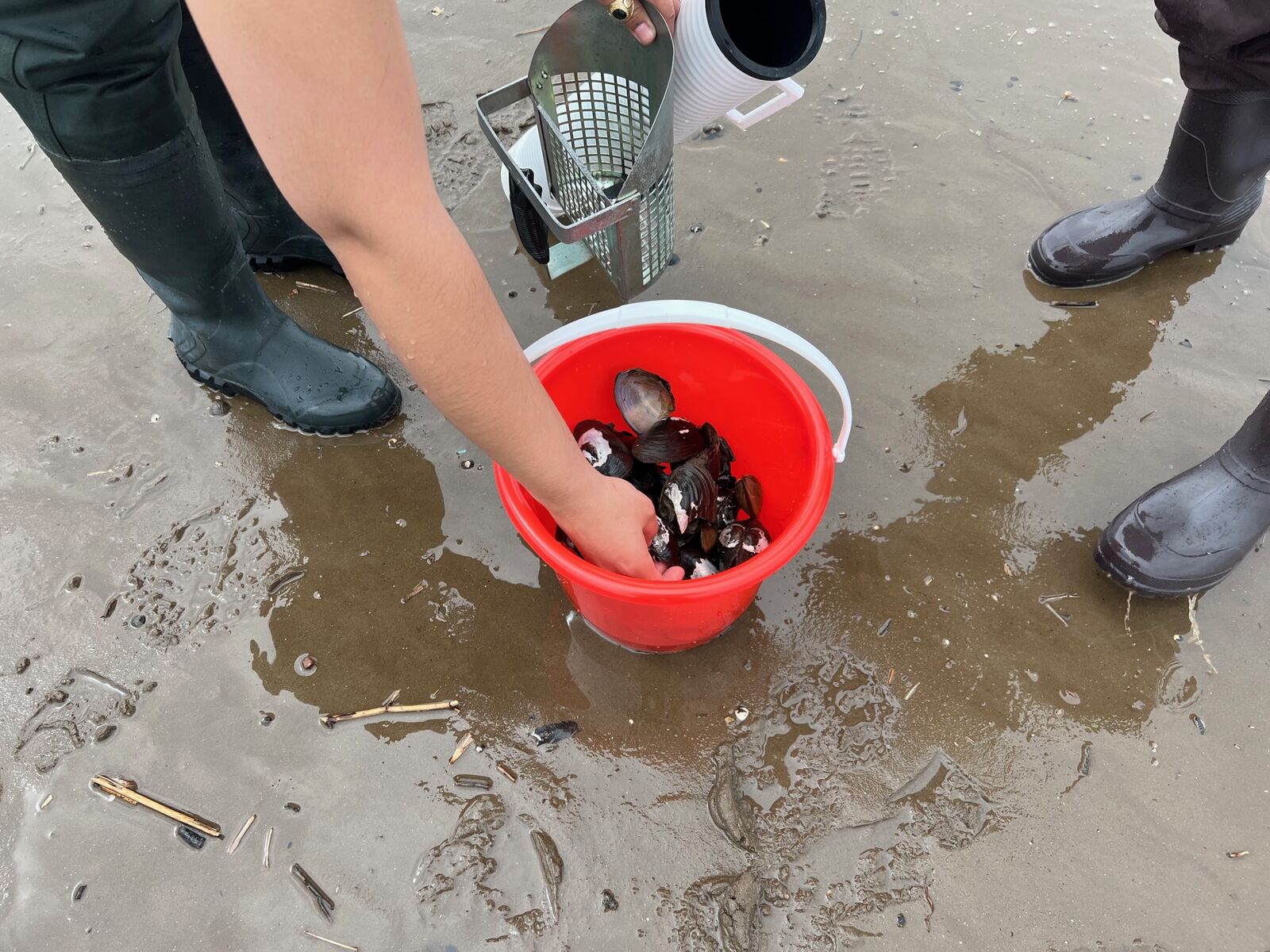 A volunteers shows off the day's catch of mussel shells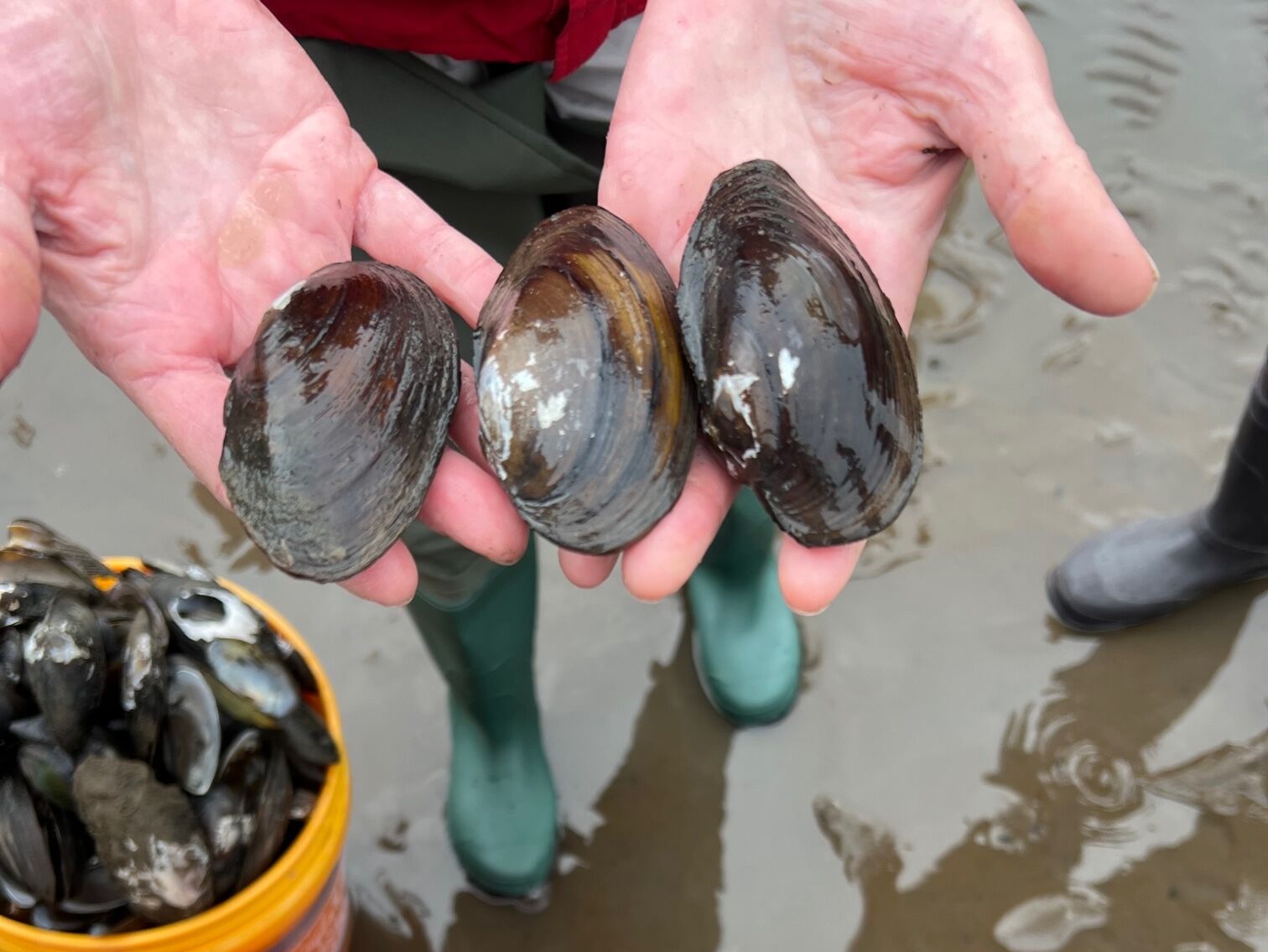 One of Jean Shin's sculptures featuring reclaimed materials, mussels shells and jars of water from the Delaware River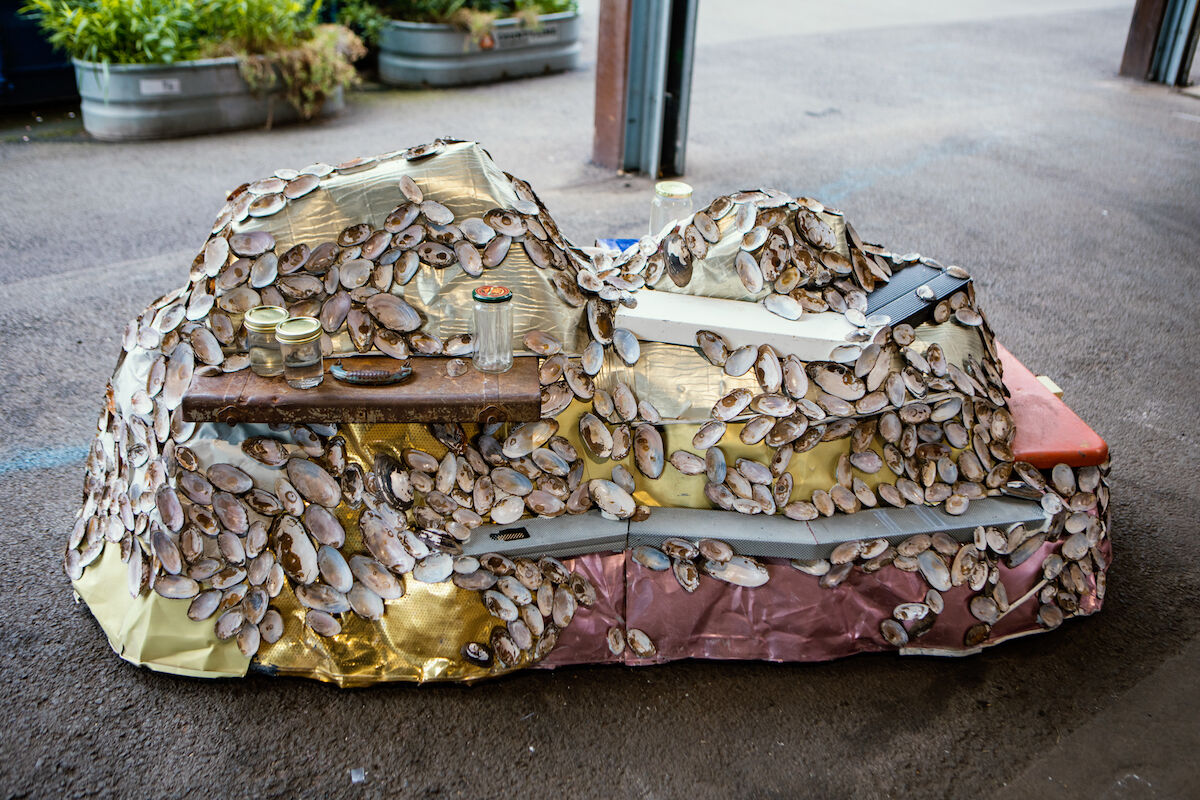 One of the finalized sculptures from the Freshwater exhibition featuring mussels collected during the survey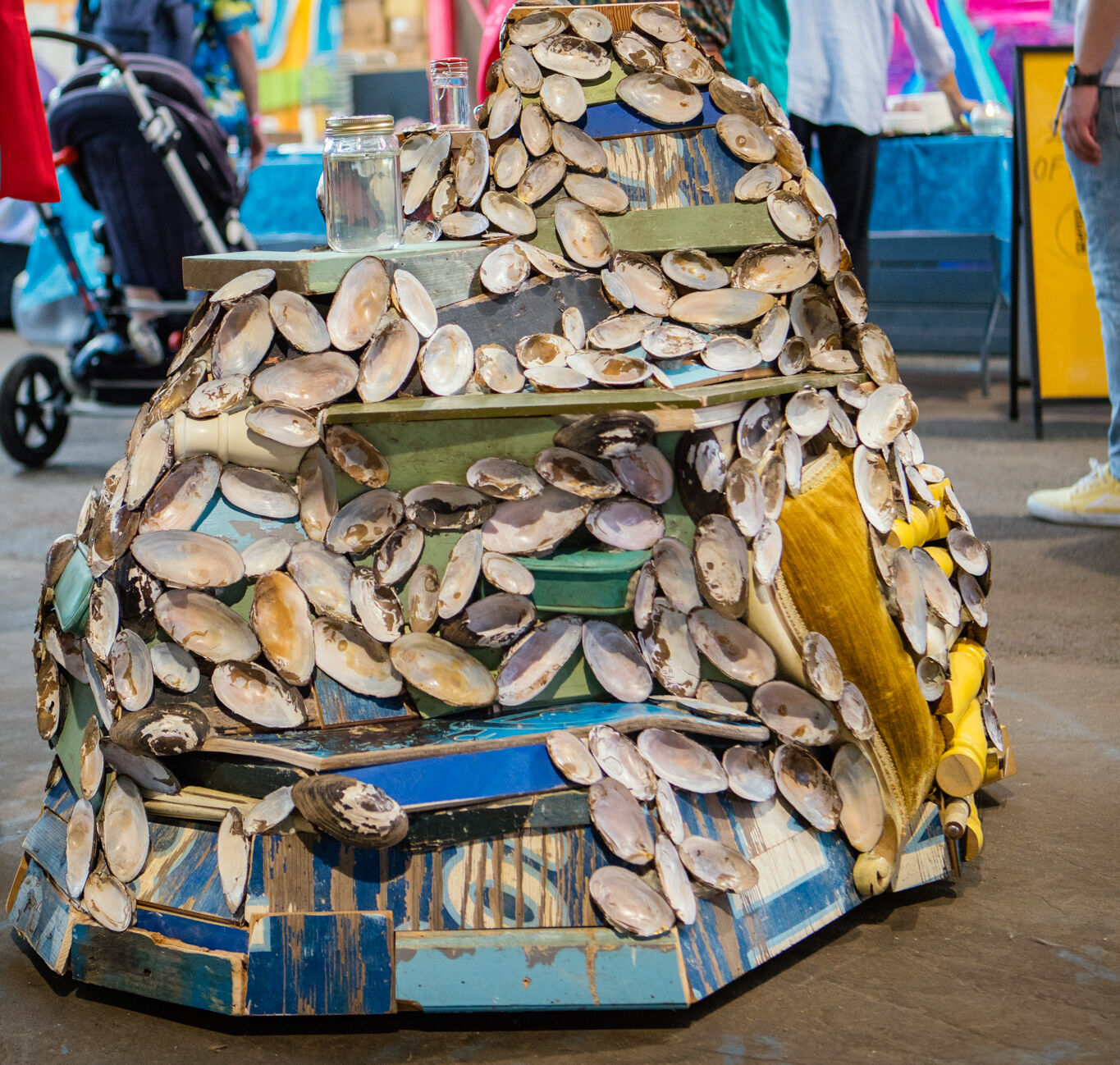 Fall Programming
Hear from artists, scientists, historians for perspectives on the Freshwater exhibition. This series of talks takes a deeper look into contemporary artistic practice and implications and complex relationships of freshwater mussels' past, present and future on the ecosystem and our lives considered through this layered exhibition. Registration and dates will be posted in the coming months.
Art Talk: Past—Overconsumption: How the Pearl Button Industry and Pollution Destroyed Mussel Species
In the 19th century the pearl button industry obliterated freshwater mussel populations in the midwest, while in the northeast industrial pollution poisoned the Delaware River for a generation. Drawing on material histories and conservation science, Freshwater is a reflection on the compounding effects of industrial waste and overconsumption. This talk takes a look at the past of freshwater mussels brought to light through Freshwater with historians who specialize in the pearl button industry and the history of industrial pollution on the Delaware. 
Art Talk: Present—Jean Shin's Artist Practice
Jean Shin speaks to her artistic practice and inspiration and the complex relationship to our surroundings conceptualized in Freshwater.  
About Jean Shin
Known for her large-scale installations and public sculptures, artist Jean Shin transforms accumulations of discarded objects into powerful monuments that interrogate our complex relationship between material consumption, collective identity and community engagement. Often working cooperatively within a community or region, Shin amasses vast collections of an everyday object or material—Mountain Dew soda bottles, mobile phones, 35mm slides—while researching its history of use, circulation and environmental impact. Distinguished by this labor-intensive and participatory process, Shin's poetic yet epic creations become catalysts for communities to confront social and ecological challenges.
Born in Seoul, South Korea, and raised in the US, Shin works in Brooklyn and Hudson Valley, New York. She is a tenured Adjunct Professor at Pratt Institute and holds an honorary doctorate from New York Academy of Art. Shin's work has been widely exhibited and collected in over 150 major museums and cultural institutions, including solo exhibitions at The Museum of Modern Art in New York, Philadelphia Museum of Art, Smithsonian American Art Museum in Washington DC, and Asian Art Museum in San Francisco, where in 2020 she was the first Korean-American woman artist featured in a solo exhibition. Shin has received numerous awards, including the forthcoming Frederic Church Award for her contributions to American art and culture. Her works have been highlighted in The New York Times and Sculpture Magazine, among others.
Art Talk: Future—Mussel Restoration along the Delaware River Watershed
Freshwater asks us to confront how the consequences of unchecked industrial excess can reverberate across generations, and how closely our lives are entangled with species that we can easily overlook. But Freshwater is also a tribute to the slow, necessary labor of restoration—to the work of numerous scientists and partners in the region that offer us all hope for a better future. This talk shares efforts to restore mussel beds and the health of the Delaware watershed with scientists guiding this work in the city of Philadelphia.