Call Her By Her Name: Lenape Sippu Festival
Curated by Kerry Bickford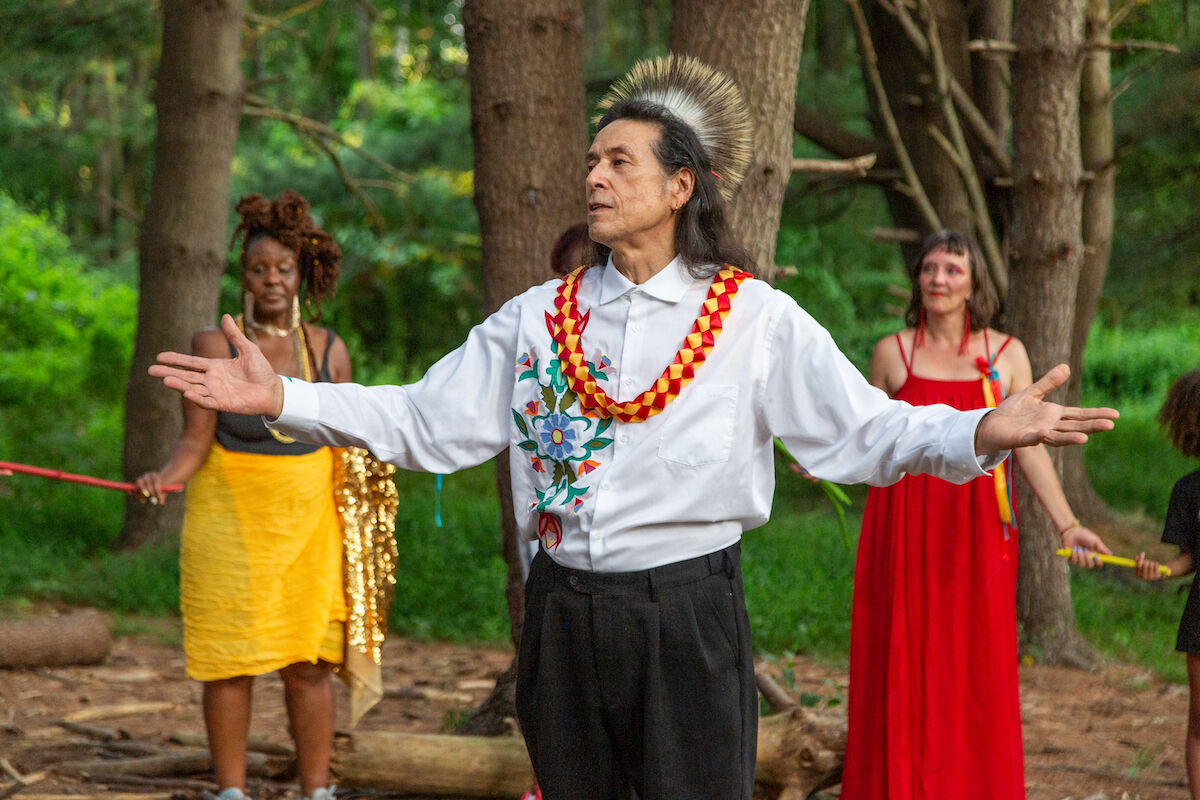 Call Her By Her Name: Lenape Sippu, an Earth Day clean-up festival will be the first event in an ongoing collaboration with Propelled Animals, a collective of artists, dancers, scholars, musicians, and designers who create thought-provoking, site responsive performances to encourage radical tenderness and action in our relationship to ourselves and communities. Propelled Animals respond to the stories of the land and its people. In recent years, Propelled Animals has worked to honor and uplift Black and Indigenous stories in their performances through collaborative practice. This first event was conceived by Esther Baker-Tarpaga, one of the co-founders of Propelled Animals, and will feature new performances by her and other artists living and working in occupied Lenapehoking.  

This free all-ages event that will take place on the Delaware River Trail, next to the entrance to Washington Avenue Green. The festival will open with a storytelling performance from Tchin, followed by a dance performance and procession by artists Esther Baker-Tarpaga, Crux, Kaolack, and singer Damara LaVette. After the performances, audiences will be provided with supplies and guided down the trail by performers and staff to participate in a trash pick-up along the trail and the banks of the river. Guests will also be invited to enjoy refreshments, participate in a kite-making workshop hosted by Fleisher Art Memorial, use chalk to decorate the Delaware River Trail, learn more about how to support environmental justice organizations working in the region at informational tables, and engage in a moment of self-care through a complimentary chair massage at the wellness station.  
Lead photo by: Hailey Bruinsma
Esther Baker-Tarpaga (MA, MFA UCLA) is a choreographer, dance improviser, and interdisciplinary artist based in occupied Lenapehoking/Philadelphia. She co-organizes projects that are multidisciplinary, site-responsive, and collectively derived; aiming for an ethic of shared leadership and decolonizing practices.
Tchin (pronounced 'chin) is a nationally known, multi-award winning artist. He was born in Norfolk, Virginia and lived in rural Virginia and Rhode Island where he received his early schooling. He attended the Institute of American Indian Arts in Santa Fe, New Mexico and graduated from Rhode Island School of Design. 
Pape Ibrahima Ndiaye (Kaolack) was born and raised in Senegal by his grandmother Pape Ibrahima Ndiaye. He currently lives between Philadelphia and the Czech Republic. Inspired by the Senegalese Ndaga, he created his own dance vocabulary and continues to investigate it and unpack its potential as a technique.
Crux is a Jersey-born performance artist. She recently graduated from Temple University with a BFA in Dance. Currently, she is a freelance movement artist, teaching, performing and choreographing throughout Philadelphia. Crux is the co-founder of Forbidden Fruit, a collective created to engender healing and uplift the collective consciousness through art and creative energy. 
Damala LaVette is a performer, vocalist, and teaching artist who is known to wow crowds with her deep, sultry, butter-like voice. After graduating from The University of the Arts and receiving her Vocal Performance degree, she became a teaching artist for various educational establishments and art companies. She has sung for the Philadelphia POPS Orchestra, WURD radio and Warm Daddy's, just to name a few. She is currently maintaining her own virtual vocal studio where she teaches students of all ages the art of singing. 
Qiwen Yuan is an independent Chinese artist, choreographer, and improviser from Sichuan, Leshan. She received her undergraduate degree at Beijing Dance Academy and is currently a Master of Fine Art in dance at Temple University. She is a  Chinese Classic and Folklore dancer. Her research mainly focuses on choreography and invites cooperation and inspiration from different art fields such as film, painting, photography, installation art, performance art, and sculpture.