Emma Sulkowicz: The Healing Touch Integral Wellness Center
Curated by Harry Philbrick, Tina Plokarz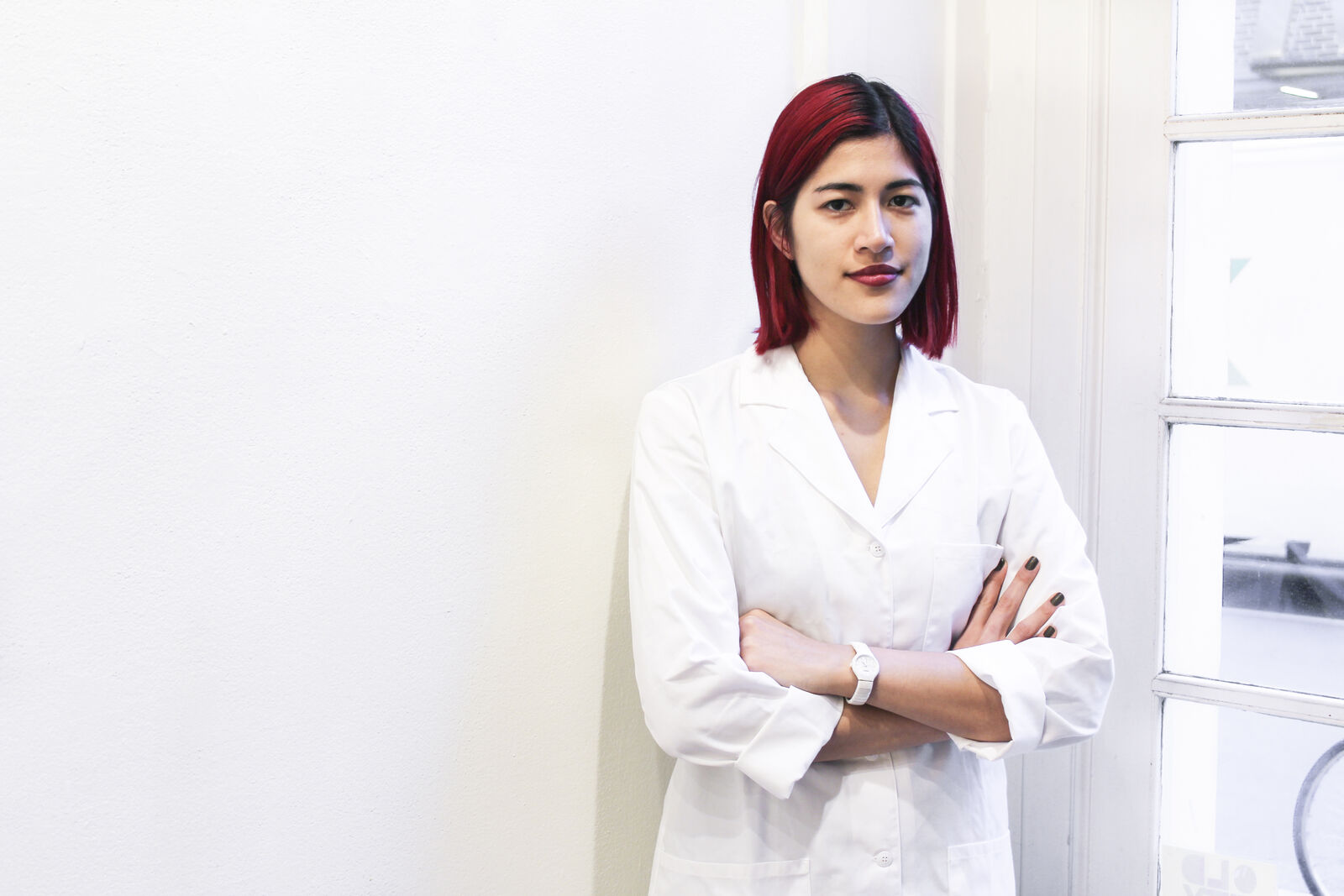 What would you like to discuss with the doctor today? What do you desire? These irresistible, almost indecent questions propelled a sensory, attentive performance by New York artist Emma Sulkowicz. Over the course of a month Sulkowicz installed a parafictional medical clinic in Philadelphia, where they offered a revolutionary cure for human desire. In 30-minute, one-on-one sessions, Sulkowicz (in the role as practitioner "Dr." Emma Sulkowicz MD, creator and leading expert of the patented Healing Method™) empowered the "clients"—participants put in the place of patients—to satiate their desire through personalized treatments.
In their previous, nationally-recognized performances Carry That Weight (2015) and Self-Portrait (Performance With Object) (2016), Emma Sulkowicz has repeatedly experienced the insatiable desire of audiences to touch their body. Rejecting and inverting this intimate wish in a public performance, Sulkowicz's wellness center provided customized treatments to redirect and cure the participants' feral desires. In a broader sense, the fulcrum of this work was the artist's questioning of theoretical concepts of touch, superstitions about healing, and the valuation of women in society. In the role as a curative servant Sulkowicz particularly challenges the insufficient appreciation of Asian American women in the service sector in the United States, who are both a growing population and an important class of workers in education, the social and cultural sectors, and entertainment. The artist intertwines concerns about the objectification of the female and female-presenting body with broader issues relating to individual freedom, self-determination, morality, desire, and the boundaries between art and life.
About the Artist
Emma Sulkowicz is an American artist and performer of Japanese-Chinese-Jewish descent who lives and makes art in New York City. Sulkowicz graduated in 2015 from Columbia University and was a studio artist at the Whitney Museum's Independent Study Program. Known for the endurance performance work Carry That Weight (Mattress Performance), for which Sulkowicz spent their senior year carrying a mattress around campus as a public demonstration and institutional critique of the University's handling of rape, their more recent works include Ceci N'est Pas Un Viol, an Internet-based participatory artwork, and Self-Portrait (Performance With Object), their first solo gallery show, which responded to the media's sensationalization of sexual violence and their assault. The Healing Touch Integral Wellness Center extended the artist's in-depth research on issues of social interaction and public conversations about rape. Sulkowicz's awards include the National Organization for Women's Woman of Courage Award (2016), the Susan B. Anthony Award (2014), the United States Student Association's National Student Movement Builder of the Year Award (2015), and the Feminist Majority Foundation and Ms. Magazine's Ms. Wonder Award (2015).
​Watch our artist interview with Emma here.